The greens and yellows accent together in this 24" old vintage ceiling tin handmade by a local artist in Illinois. From Lori : "Each piece created is truly a one of a kind along with its history and building location. As I started painting and selling my tin creations, the demand of more unusual ceiling tin art in flat and collage designs far surpassed my ability to produce it. A respect and love of art and antiques of the past fuel my goal of preserving our unique vintage finds for more art lovers to come."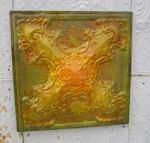 We ship to the lower 48 U.S. for free on orders over $40.00.
Smaller items can be packaged and ship through FedEx Ground and will deliver to your front door without a signature required.
Larger, heavier items need to ship through a freight company and will deliver by a large tractor trailer. They usually park on the street and offer curb deliveries only. Normally they have a lift gate to drop the order to the ground and move it to the side.
Business Deliveries - To be classed as a business you need to keep hours and be located in a business district. They will not call for an appointment so someone needs to be there during business hours to sign for it or there will be re-delivery fees.
Residential - The trucks deliver right to your home. The shipper will call you to give you a window of time when the truck will arrive. An adult needs to be home to inspect and sign for the shipment. If for some reason, you are not there, re-delivery fees will apply. If you need an additional handling service added to your delivery, these service fees will also be applied.
Click here for more
Shipping Info