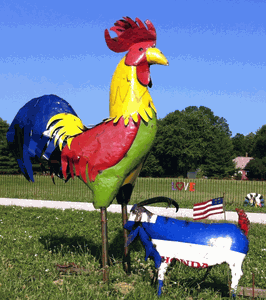 Outdoorsy folks will find something different in our scrap metal recycled yard art. All the folk art is hand-made, and each statue boasts its own personality. Many of our metal yard art animals come in different sizes to fit your space and your budget.
Browse lots of good art in this category from our flamingoes like
65" Metal Flamingo
, to the unusual lifelike
Bigfoot silhouette
.
These statues and sculptures are made to entertain, being made out of recycled appliances, car parts and more. The metal pieces get welded together to make a strong piece of fun folk art perfect for gift ideas and unusual tastes.