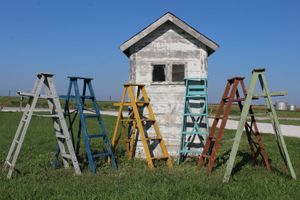 Browse our antique wooden step ladder inventory with all different styles for sale. Shop for wood step ladders to make rustic
display shelves
.
We created products to help organize and display your home goods and holiday decor, like
double sided ladders
and
A-frame ladders as Christmas Trees
. Our customers are using them in every room of their home after sourcing plank shelves from their local lumber company.
These are old, used wood painter's ladders that we are selling for a country decorative accent. Please note that they are NOT FOR CLIMBING. Each ladder is sold individually unless stated otherwise. Our antique ladders, picked from Midwest farms, are to be used for hanging quilts, pots, and miscellaneous items. If you choose to climb these ladders be advised that we are not responsible and you will be doing it at your own risk.
Each ladder is vintage and all are made differently. If you are needing a special look you should contact us and let us know your needs.
If you are needing these to lay planks across for shelving be ADVISED that some ladders have Criss Cross Supports and some have horizontal supports. THE HORIZONTAL SUPPORTS NEVER ARE LEVEL WITH THE FRONT STEPS. These are vintage and that is how they are made.