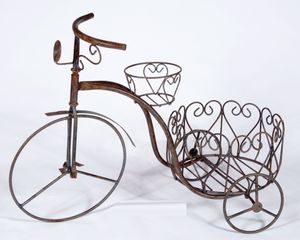 This wrought iron trike is adorable when placed in a garden or just sitting on the porch. This cute little trike's old fashioned decor at its finest. Measures 30" tall X 40" long X 10" deep.
Braun Moisture Mat Liner
A Rustic Garden offers a Dark Green Moisture Mat Liner for this planter. We will cut it to fit so it is ready to plant. Manufactured by Braun - a leader in Horticulture Products. This moisture mat liner is an option when ordering your container.
We finish your wrought iron planters in a high quality satin finish. Many customers like to leave the wrought iron in its rusty, old-fashioned look. Others, of course, get to customize the finish exactly to their purpose and decorative styles.