Please feel free to email or call us at 866-514-2733 to see if your order qualifies for combined shipping.
Wrought Iron Fencing & Gates
Find 3 feet to 6 feet tall wrought iron garden fencing and gates to surround your home's property or business with decorative style. We also offer flower garden borders and fence edging. Our wrought iron fences and gates are simple to install and add a unique aesthetic to an outdoor space. The timeless and classic hoop and spear design will fit in with a full range of garden decor.
We also have Buying Guides to see what products and posts work well together.
---
Want a free quote?
We'll do the heavy lifting in configuring your fence project specs.
Fencing Quote Form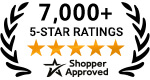 With our wrought iron fences and gates, it's easy to create original entryways and divisions in gardens and outdoor spaces. This rustic decor is designed to provide gardens with that classic Old Country look. Our wrought iron fences are great for flowering vines and climbing plants like Climbing Hydrangea, Black-eyed Susan Vine, and even Concord grapes. We also provide a wide selection of wrought iron arbors and trellises for all vine and climbing plant needs.

In addition to our wrought iron metal fences and gates, we provide hundreds of different furniture and accessory options for the garden. For avid gardeners who spend lots of time outdoors, be sure to check out our sundials. With proper placement a sundial's time is just as accurate as a pocket watch! We also have a vast assortment of garden stepping stones which can help when treading through the garden and also enhance the garden's aesthetic. For lounging, be sure to check out our wrought iron patio furniture which can help owners and guests better appreciate a unique outdoor space. Partner with us to create a dream garden!

Whether it's fine wrought iron fences and gates or fun lawn ornaments, we're the source for all outdoor living needs. Be sure to check back as we continue to update our inventory to better satisfy our customer's demands.